Until a few years ago I managed hotels and restaurants. At one point I had clear in my head the importance of online visibility to attract new customers and retain existing ones. But I was very superficial and thought that to have an online presence it was enough to randomly and without any criteria post photos and texts on Facebook and Instagram. But social media for Hotel or restaurants is an activity that requires time and attention.
The digital awareness acquired over the past 5 years in the world of innovative start-ups has overturned my past convictions and today I am here to offer you 10 practical tips (+ 2 final bonuses) that could revolutionise your way of thinking too. I know very well what it means to be a restaurateur or hotelier, so let's get straight to the point.
In this article
Social Media for Restaurants and Hotels: Facebook and Instagram
1. Facebook and Instagram are 2 important tools when used as part of an integrated digital marketing strategy. The biggest mistake I made until a few years ago was thinking that I could take care of this business on my own. As a former fellow restaurateur and hotelier, I can confide in you: I thought I was doing who knows what and instead I was wasting a lot of time with very little benefit for my restaurant or hotel.
Unfortunately this is a mistake that I see many former colleagues continue to perpetrate. In reality, anyone who takes social media for restaurants and hotels seriously is a qualified professional who employs 'blood, sweat and tears' to position your business among target customers.
2. The unprofessional use of Facebook and Instagram is counterproductive: it makes you feel good about yourself and does not make you realise what other activities and digital tools can develop your business. I too for a while adapted to making unprofessional posts like all my colleagues did, and the reality of the facts was that I never achieved specific, measurable, achievable, relevant and time-based results. Social Media Management can bring tangible results when it is a job done by a professional in the field that takes time and expertise. Any one person can replace the cook in a kitchen and save you money in the short term, but what will happen in the long term when patrons taste the dishes? Always look at the long-term benefits.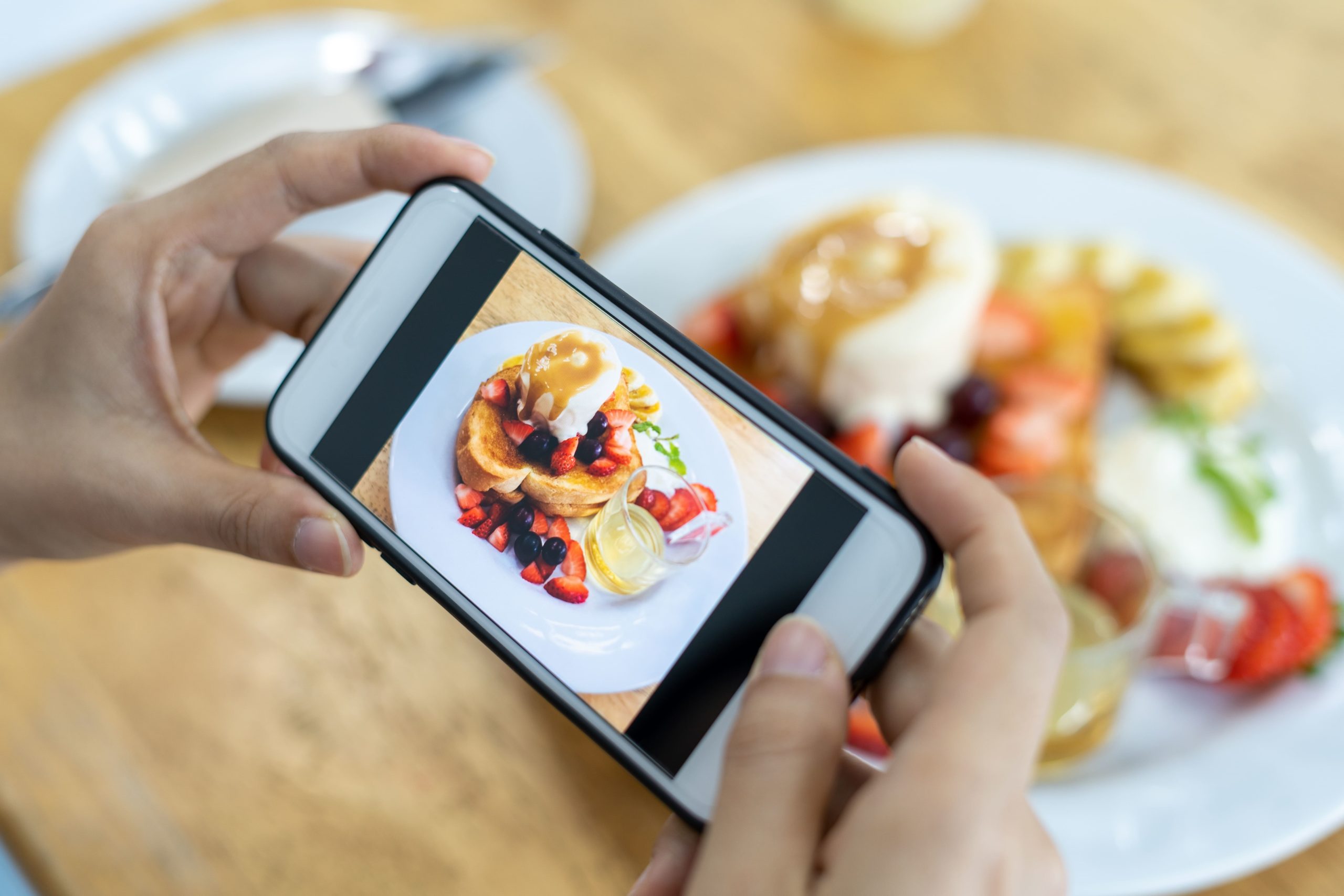 Social Media for Restaurants and Hotels: Differentiating Yourself to Attract Attention
3. Differentiating yourself is the key word. In Italy there are 350,000 food and beverage companies and over 50,000 companies in the hotel sector. All of them have Instagram and Facebook accounts. Posting random, low quality content without any storytelling (value to users) or any work on copy or photos, what goals does that get you? None. Always think with the users' heads and when someone is in charge of something as important as your company's social make sure that in the posts they craft for you there is value for users who are always looking for inspiration, entertainment or information.
4. Fight for attention. Today the competition is both within the social you are using and outside: in fact, countless successful apps attract users outside of Facebook and Instagram.
For example TikTok, Messenger, Whatsapp, Google messaging, Snapchat, Telegram, YouTube. Always ask yourself a question to answer truthfully: why should the content of your restaurant or hotel attract people's attention compared to other businesses like yours? Would you be attracted as a user?
5. Quality counts more than quantity. Gone are the days when profiles grew organically (i.e. without paying for advertising) when you posted daily and maybe even several times a day. My experience at Caro Collega is that one must always evaluate the 'effort', i.e. the effort in terms of possible results. Also think about the fact that people are used to following other people and not companies, unless it is something really relevant. Personally, I think it is impossible to follow all the restaurants or hotels I have been to, in fact I only follow those whose profile is interesting.
6. Posting the same content on Facebook and Instagram can be a fallback solution when there are no economic conditions to differentiate the content, but it is not the rule to follow because the audience is different and the 2 socials are based on different concepts and rules. Facebook numerically is the social with the most users (almost 3 billion), but how many of them are active?
Above all, are your hotel and restaurant customers more present on Facebook or Instagram? Do you answer by sentiment or through the Engagement Rate data of the posts or photos you publish?
7. How many posts to publish? There is no absolute answer. Remember that we are talking about a corporate account and not a personal one. People are attracted to content posted by other people, whereas content posted by a restaurant or hotel is considered a form of advertising. The sentiment that is spreading in a saturated environment is to hate activities that flood the feed with meaningless, repetitive content of little value. Let us limit ourselves to posts that follow an editorial plan and that we use to promote a new menu, or when we have something of value to tell our users.
Evaluate your strategy objectively. Always think with the head of a general user. If you were him, would you be interested in seeing the post you published? When I started thinking this way, I wanted to delete 90 per cent of what I had published in previous years. Remember that usually, the best job you can do for a Restaurant or Hotel is to try to present the highlights of your business to an audience that might be interested, in a coherent manner.
8. Consistency. It is among the most important aspects of a social strategy for restaurants and hotels. People who discover your business, before they come to see you, will deepen this search on social. So make sure they find quality content using photos, videos, reels, captioning, hashtags, mentions that have been worked on and thought out and not thrown around randomly to users.
Remember that even online 'there is no second best time to make a good first impression'. Doesn't the same thing apply when you have to choose your holiday hotel or restaurant to take your sweetheart to?
9. Experiment. This is a key word since every business has its own characteristics and its own audience and therefore it is not possible to know in advance which activities will bring the most value to your business with the least effort. This is one of the reasons why choosing a professional will save you money that you would lose in terms of lost revenue. The sooner you understand, the sooner you will start earning money.
10. Time. Fundamental to any social activity is time. There is no on/off switch but rather the algorithm of Facebook or Instagram that needs to be trained to find users interested in your product that are easier to turn into customers. Basically if you start a META investment journey keep in mind that:
You will need an ad specialist as he or she has different skills from the social media manager and is the only one who can really put your investment to good use. The cost of ads is variable, the better you are the less you pay.
Never switch off campaigns, but modulate the investment as needed. When the venue is closed set a minimum budget and leave the algorithm always 'on'.
Don't expect tangible results overnight. Make sure that an editorial plan is drawn up and ask to be informed of the expenditure/results ratio through a monthly report at the latest.

Social Media for Restaurants and Hotels: The Ultimate Tip
11. Investment. "Without money you don't sing mass"! Which translated into Social Media Marketing means that you have to invest in promoting the content you produce and post, otherwise only 10% of the people who follow you will see it. If you've made a good piece of content that best represents your company, don't you want it to go viral? I guess so since a viral post is able to attract new customers. Consequently, you have to invest in Facebook and Instagram in a smart way, i.e. by having someone constantly monitor the performance of your campaigns and report to you on the return on investment.
I will personally answer any questions, comments or food for thought because only in this way can we become competitive again.
Article written by Giancarlo De Leonardo, former Hotelier & Restaurateur and Founder of carocollega.com